San Antonio Pergolas & Patio Covers
Create the gorgeous space you've always dreamed of with the help of Alamo Decks & Fence. Our professional pergola and patio cover builders create pergolas for homeowners across the area, giving you the freedom to get a beautiful exterior that is tailored specifically for your tastes. We work with the best materials on the market and utilize years of experience to deliver exceptional results that you'll love for years to come.
Have you always wanted a beautiful outdoor living space, but didn't know where to start? Our pergola and patio cover builders are here to help! We will work with you throughout the process to make sure your custom pergola meets your specifications. Our team will help you decide the best route to take to meet your needs and provide professional recommendations for how to get the most out of your new structure. From custom decks and patio covers to pergolas and gazebos, we have the experience and skills to build the right outdoor space for you!
We bring expertise and professionalism to ensure your trust and guarantee your complete satisfaction. Customer service is the leading priority of our company and we're passionate about offering solutions that are beautiful, functional and cost efficient so that we can bring your vision to life.
From sales and design, to installation and repairs, we offer a wide range of services to meet your needs.
Reasons to Build a Pergola & Patio Cover
Homeowners who have discovered the merits of relaxing and entertaining in their backyards are often considering the next enhancement they can add to their outdoor space. Backyard enthusiasts crave continued improvements, as each adds beauty, visual appeal, and an opportunity for enjoyment. Create a romantic space on your property by adding a custom pergola. Our team builds custom pergolas in a variety of styles, allowing you to make a beautiful spot the one you love. If you're considering the next addition to your landscape, consider installing a pergola. Here's why:
They extend your living space: A pergola and patio cover can add definition to your backyard. You can create an entertainment lounge or a dining area, which is profound, especially if you do not have a deck or patio. If you want a definite purpose in your outdoor area, a pergola is the perfect solution.
They're perfect for design enthusiasts: Pergolas and patio covers provide support for everything from chandeliers and ceiling fans to small speakers, strings of lights, even fabric. You're only limited by your imagination.
They give you privacy:  If you don't like being on display when you are enjoying your outdoor space, you should get a pergola. Although it is an open structure, you can create privacy by adding drapes, latticework, or screens to one side of the pergola or patio cover.
They provide shade: A pergola and patio cover can give you a beautiful shaded area where you can enjoy the summer day without worrying about sunburn. If you have a natural roof made of climbing flowers, you instantly get an outdoor lounge where you can relax.
They add value: You can add as much as 20% to your home with attractive landscaping. Pergolas and patio covers are extremely affordable, but can add immense value to your home.
A pergola or patio cover is an easy yet gorgeous structure that adds a lot of appeal to backyards. You can transform your outdoor area and create a living space where you can entertain friends and family or relax and unwind after a long day. No matter what you use it for, you can be sure that you will love owning a pergola or patio cover!
Types of Pergolas & Patio Covers
There are a variety of materials to consider and all come with advantages and disadvantages:
Pressure-treated wood: A pressure-treated wood pergola or patio cover is often your least expensive option. They'll have a reasonable lifespan but pressure-treated lumber can warp, crack, and check over time. This type of pergola or patio cover generally looks best if painted or stained.
Cedar wood: Cedar (typically Western Red Cedar) is a popular choice for pergolas and patio covers. It's naturally insect resistant and looks beautiful right from the sawmill. You can leave it untreated to turn a soft silver gray, or stain and seal it to hold its color. A cedar pergola or patio cover is more expensive than a pressure-treated pergola, but you'll typically get a longer serviceable lifespan from cedar.
Vinyl: If you're looking for a pergola or patio cover that requires very little maintenance, vinyl is certainly worth consideration. You cannot easily paint a vinyl pergola or patio cover, however, so your color choices are limited.
Fiberglass: Fiberglass pergolas are generally the most expensive way to go, but they come with significant benefits. Because fiberglass is so strong, you can span much longer distances without posts, (in some cases, about 20 feet) giving you a cleaner look). Fiberglass can be painted any color you want, and the paint will hold up better than on wood. Finally, fiberglass pergolas are perfect for adding to either a deck or existing patio. Due to their light weight, fiberglass pergolas don't require the same deep footers as other materials dictate.
Contact Alamo Decks & Fence
Ready to design and build the pergola or patio cover of your dreams? Contact us today or get a free quote to get started.
Pergola & Patio Cover Gallery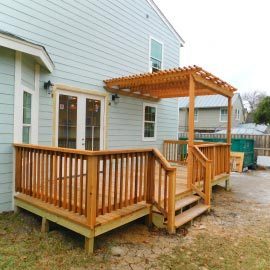 BUILD YOUR FENCE TODAY!
If you're looking to beautify and enhance the security of your property, turn to Alamo Decks & Fence in Bexar County. We truly value our customers, which is why you can trust us to build your fence using the highest quality materials at the best prices possible.
To Receive Your Free Estimate
Call us at 210-404-4454