San Antonio Deck Builders
Create the gorgeous space you've always dreamed of with the help of Alamo Decks & Fence. Our professional deck builders create decks for homeowners across the area, giving you the freedom to get a beautiful exterior that is tailored specifically for your tastes. We work with the best materials on the market and utilize years of experience to deliver exceptional results that you'll love for years to come.
Have you always wanted a beautiful outdoor living space, but didn't know where to start? Our deck builders are here to help! We will work with you throughout the process to make sure your custom deck meets your specifications. Our team will help you decide the best route to take to meet your needs and provide professional recommendations for how to get the most out of your new structure. From custom decks and patio covers to pergolas and gazebos, we have the experience and skills to build the right outdoor space for you!
We bring expertise and professionalism to ensure your trust and guarantee your complete satisfaction. Customer service is the leading priority of our company and we're passionate about offering solutions that are beautiful, functional and cost efficient so that we can bring your vision to life.
From sales and design, to installation and repairs, we offer a wide range of services to meet your needs.
Reasons to Build a Deck
Build the perfect custom deck for your family! We handle deck building for homes of all sizes, and our contracting team only uses the best materials on the market. Homeowners all over the country are expanding their living spaces to include the outdoors, building versatile living spaces that feature everything from quiet places to read to fully functional outdoor entertaining spaces complete with kitchens and dining.
Here are some great reasons why you should consider adding a deck to your home.
A deck enhances value of your home: Few things add hard value to your home more than outdoor living areas. Experts agree that a deck offers a 100% return in value. You'll get back every cent you spend building a deck when you sell your home, and the additional curb appeal will help you sell it faster.
A deck is perfect for parties: If you like to host parties for friends, a deck is the perfect way to add functional space where people can gather and still breathe freely. Decks are less claustrophobic than crowded rooms, and spills and other potential damage are less costly to repair or clean up.
A deck offers a new look: There are more decking materials on the market now than ever before. Express your design aesthetic with natural or composite materials, from exotic hardwoods to rustic pine, from stone flooring to a brick fireplace, and from a simple, traditional diagonal to a complex geometric design.
A deck adds more functionality: Outdoor living is such a popular trend that the market has responded with a huge variety of products built for outdoor living, from fire pits and fireplaces to outrageously comfortable seating arrangements designed to make your outside spaces as beautiful and versatile as the inside of your home.
A deck increases your living space: Many homeowners use decks as places to plant herb or container gardens, to enhance the dinner table while adding natural beauty to the outdoor décor. Installing a deck is easier than ever with today's materials and deck plans are readily available. Almost any homeowner can elevate an ordinary, boring cement porch to a trendy modern living space by adding a deck-style flooring in an afternoon.
A deck decreases landscaping maintenance: Are you one of the millions of homeowners who detest yard work? Well, an outdoor deck addition replaces some of your lawn. This ultimately means you can spend less time mowing the lawn, dealing with weeds, and raking leaves in the fall.
Contact Alamo Decks & Fence
Ready to design and build the deck of your dreams? Contact us today or get a free quote to get started.
Decks Gallery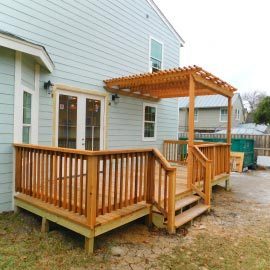 BUILD YOUR FENCE TODAY!
If you're looking to beautify and enhance the security of your property, turn to Alamo Decks & Fence in Bexar County. We truly value our customers, which is why you can trust us to build your fence using the highest quality materials at the best prices possible.
To Receive Your Free Estimate
Call us at 210-404-4454